The Honeychurch Hall Mysteries 

look out for news on

Dagger of Death at Honeychurch Hall!

(no. 10 in the series)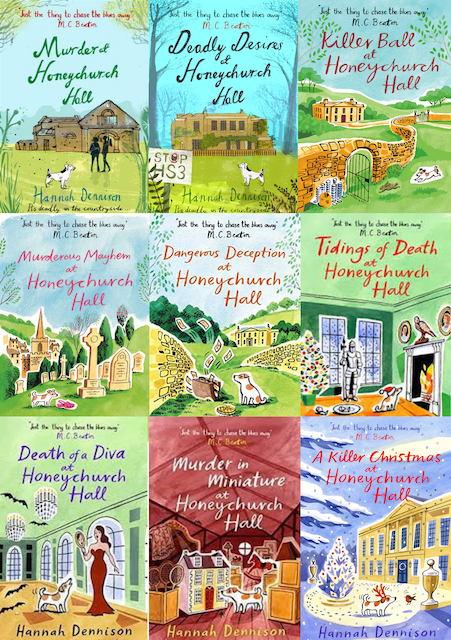 Welcome to my website
It's March! I am updating this website looking out of my window at an abundance of spring flowers in the garden - daffodils, primroses, violets, hyacinths and camelias. It's deceptive because some parts of England has had snow but luckily, not here in Devon. My mother told me that it was snowing on the day I was born and that was in April.
I've been back in the UK for over four years now and just had to catch myself. Why do we Brits always start a conversation by talking about the weather?
Having said how much I love the spring, this time of year is always tough for me because I am feverishly writing to a May deadline for my next Honeychurch Hall mystery - Dagger of Death at Honeychurch Hall, slated for a November release. Every year I promise myself that I will start writing a little earlier and finish not just on time, but at least a week before! It never happens. I have fellow writer friends who are so organised that they put their manuscript into a drawer for it to "cook" before turning it into their editor. Not me. I'm always up to the wire.
Other than writing, I don't have a lot of book news. The Island Sisters Mysteries is still on hold at the moment but I have not given up on Evie and Margot. I do have fun news about my first series - The Vicky Hill Mysteries chronicling the adventures of obituary writer extraordinaire. Happily, Vicky Hill has been translated into French with the first book titled Scoop! which is the French word for Exclusive! just out. This means the second book in the series which IS titled Scoop! (LOL) will have a new title. I can't wait to see what it is!
And, as always - I love hearing from readers. I do reply to everyone personally even if it takes me a few days so don't be shy!
Wishing you all a very Happy Easter -
Hannah
Quick Note: I update my website myself so all errors are mine. Thanks for stopping by!
Updated: MARCH 2023