The Honeychurch Hall Mysteries 

Dagger of Death at Honeychurch Hall!

(no. 10 in the series)

Cover Reveal Coming Soon!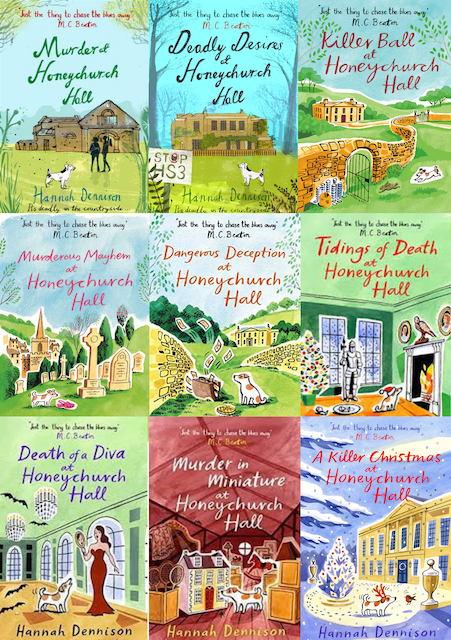 Welcome to my website
The month of May is always a frantic time for me deadline-wise. I'm close to finishing the next Honeychurch book - Dagger of Death at Honeychurch Hall which is due on May 31st! I say "finish" but it's really finishing the first round i.e. turning in the manuscript to my editor and my agent. After I have feedback from them, I can relax and focus on making the book a better book. From there, my manuscript will go through copyedits (often the most brutal part actually because copyeditors see things I am too close to the material to see), then proofs and then typeset pages. Oh - and did I mention that I usually write five drafts before I even send the manuscript in! I am always in awe of my fellow writers who can zip off an excellent book with just a couple of drafts. No matter how early I begin a book, I always seem to take the same length of time. After eighteen books I've accepted that this just must be my process.
Other than writing, I don't have a lot of book news. The Island Sisters Mysteries is still on hold at the moment but I have not given up on Evie and Margot. I do have fun news about my first series - The Vicky Hill Mysteries chronicling the adventures of obituary writer extraordinaire. Happily, Vicky Hill has been translated into French with the first book titled Scoop! which is the French word for Exclusive! This means that the second book in the series which IS titled Scoop! (LOL) will have a new title. I can't wait to see what it is! I can't tell how thrilled I am that City Editions have translated all my work into French (so far!). I've promised myself to brush up on my French - I must have been bilingual at some point because recently I found a diary I'd written when I was seventeen - it's ALL written in French. If nothing else, I'd love to know why I decided to do that - was I writing in some kind of code?
Okay ... I have to go back to the foxhole now - the countdown to May 31st has already started.
As always, I love hearing from readers via email or on social media. I do reply to everyone personally even if it takes me a few days so don't be shy!
Until next time-
Hannah
Quick Note: I update my website myself so all errors are mine. Thanks for stopping by!
Updated: MAY 2023